SmoothEye
What is SmoothEye?
SmoothEye is a non-invasive procedure which aims to improve the appearance of wrinkles and fine lines around the eyes.

Centre for Surgery uses Fotona's SmoothEye laser therapy. This stimulates collagen production, which tightens and smooths the skin, making you appear more youthful.
How is SmoothEye administered?
SmoothEye is performed as a day procedure. You will be able to return back to your usual daily routine straight after the procedure.
You will have a topical anaesthetic cream applied to the skin prior to treatment to help minimise any discomfort. You may be able to feel some heat during treatment, however this will not be unbearable.
SmoothEye uses Fotona's SP Dynamis laser with the Er:YAG wavelength in SMOOTH mode.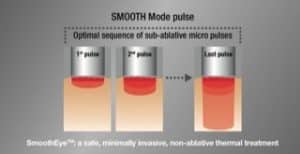 The laser is used to heat the deeper layers of the skin, which increases the production of collagen. Over time, this reduces the appearance of wrinkles.
Prior to undergoing laser treatment, a topical anaesthetic may be applied to reduce any discomfort.
SmoothEye Procedure aftercare:
This is a non-invasive procedure, so there is little downtime.
You may experience some tightening and redness of the skin after the procedure, which will recover after the first few days.
It may take a few weeks to start seeing results as the collagen is stimulated. 
You may wish to avoid excess sun and heat exposure for seven to 10 days to ensure you can achieve the best results.
Should I opt for SmoothEye Procedure?
SmoothEye is suitable for those who show signs of ageing around the eyes but do not wish to resort to surgical treatments. You will also need at least three treatments to achieve the best results. This may vary from person to person and your practitioner will be able to advise you on the best treatment plan.