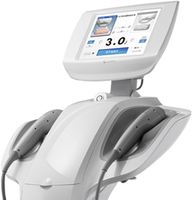 ULTRAFORMER III is a non-surgical system for lifting, tightening and contouring your skin. Three multi-depth cartridges are applied to your skin to directly transfer ultrasound energy into multiple layers of your face to trigger collagen renewal for a tighter and younger complexion.

High Intensity Focused Ultrasound (HIFU) offers effective non-invasive facelift and skin tightening. This uses ultrasound energy that helps encourage the production of collagen, which then leads to tighter, firmer skin. The high-frequency beams used by HIFU treatment allows it to focus below the skin's surface, avoiding damages to the upper layers. Unlike surgical facelifts, HIFU has no scarring, incisions, and no required recovery time.
A number of problem areas can be treated by HIFU treatment such as the chin, jawline, eyelids, neck, and other face regions that are wrinkling or sagging.
Here are some of the Key Benefits:
Non-invasive facelifting Lifts and tightens the chin/jaw area, eyebrows, cheeks, and neck area Reduces the appearance of wrinkles Stimulates the natural healing process of the body Minimal downtime No damage to your skin's surface
How it works?
Comparable to utilizing sunlight and reflecting it through a magnifying glass to deliver a beam, the ULTRAFORMER III treatmentdelivers ultrasound energy into the target region of the skin, stimulating and formulating collagen regeneration.The precision in delivery of a high density of power, triggers neo-collagenesis naturally within the body.